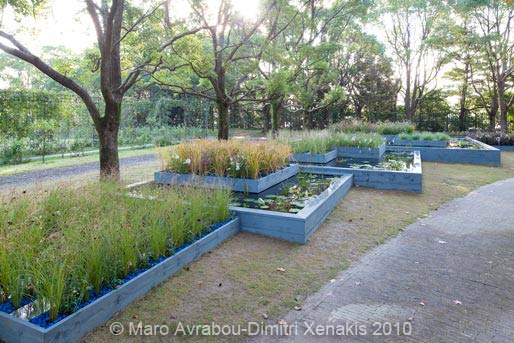 "When the earth meets the sky:
A tribute to Agriculture"
Nagasaki International Gardens Festival: GWC.
October 2010.
Twelve square plots (Nine terrestrial, three
ponds ).
Wood, stainless steel mirror quality,
paint, fiber-glass resin.
Thanks to:
Kazuyuki Ishihara, Phil and Yoko Jacobson,
to our fantastic contractor Kamada, to Masa, Kenzo, Makiko, Hime, Hana, Shinogu,
to all interpretors..

Photographs: copiright Dimitri Xenakis 2010.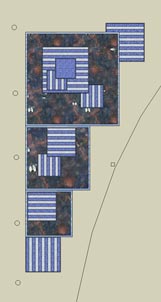 Design's Concept. Design:
Our design consists in a succession of square plots. Some are ponds, some others look like islands which are cultivated.
Farming:
The linear design refers to furrows and so to the farmer 's work. In many civilizations the square symbolises the earth and agriculture.
This geometrical figure is important to us. Our terrestrial planting is based on the use of Graminaceas punctuated by flowers.
Graminacea is a large botanic family witch includes cereals. We refer so to the cultivated wheat fields, where now and then wild flowers grow,
as well as to the rice fields (See pictures below).
Earth and sky:
Cultivated bands alternate with mirror-covered stripes which reflect the sky . So does the water in the ponds.
Peace:
Farming requires patience, observation, submission to the natural cycles and weather conditions.
Farming is already a peaceful attitude, a comprehension of environment as a whole.
The juxtaposition of earth and sky is a picture of this wholeness.
Colours:
The use of blue-violet colour refers to the sky and the sea and symbolises serenity and peace. No brutal contrasts here, just smooth colours.
The tree:
All trees have always been the symbolic element that connects earth and sky. They are considered as "Axis Mundi". All Trees lead our vision
from earth to sky.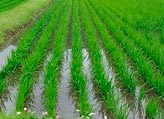 Rice field .